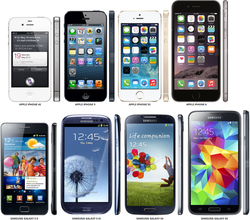 NOW REPAIRING SMARTPHONES AND TABLETS
CALL OR TEXT FOR A FREE ESTIMATE.
Screen Repairs
Lcd repairs
Charging Port Repair
Camera Repair
and More
Call 330-760-2570 or email/Text at NothEastTradingco@Gmail.com
---
Dont Like Windows 8?
We can help! Ad ons and other options available starting at
$19.00 That makes the system easier to use.
Contact us for more info Thru the "Contact Us" Page for more info
ABOUT VIRUSES
Usually computer viruses affect computers thru email, website navigation, opening pop-ups.
What is a Virus?
Wickpedia describes it like this:
A
computer virus
is a type of
malware
that, when executed,
replicates
by inserting copies of itself (possibly modified) into other
files
; when this replication succeeds, the affected files are then said to be "infected".
[1]
[2]
[3]
Viruses often perform some type of harmful activity on infected hosts, such as stealing
hard disk
space or
CPU
time, accessing private information, corrupting data, displaying political or humorous messages on the user's screen, spamming their contacts, or
logging their keystrokes
. However, not all viruses carry a destructive payload or attempt to hide themselves -- the defining characteristic of viruses is that they are self-replicating computer programs which install themselves without the user's consent.

Why are people creating Viruses?
Motives for creating viruses can include seeking
profit
, desire to send a political message, personal amusement, to demonstrate that a vulnerability exists in software, for
sabotage
and
denial of service
, or simply because they wish to explore
artificial life
and
evolutionary algorithms
.
[12]
What Can be done about it?
We can remove Viruses, Malware etc Starting at
$39.00
If the Viruses have contaminated the Operating system we will have to clean the computer out and re-install The operating System for $59.00
Contact us for more info Thru the "Contact Us" Page for more info